Vegan friendly hotels in Nepal
By Paul Eyers on Jun 23, 2023 in Accommodation, Asia, Food and Drink, Hotels, Nepal, Regions, Travel Miscellany
Home to eight of the highest mountains in the world, with a rich and ancient culture, the landlocked nation of Nepal is a country that is easy to fall in love with. The people, the delightful vegan cuisine, the stunning backdrop of the Himalayas; Nepal is a destination like no other.
Kathmandu, Nepal's vibrant capital city and Pokhara, the nation's most popular tourist destination and base for those heading off to trek the iconic Annapurna Circuit, have some solid luxury hotel choices for visitors. Our three luxury hotels favourites for these locations all served creative, exciting and nutritionally balanced plant based food. Dining in Nepal isn't just about dal bhat (a delicious regional staple consisting of rice, lentils and veggie curries) or momos (the ubiquitous dumplings that are available everywhere). There is an abundance of other excellent vegan and plant based food to be found, although it's only fair to say that we did eat dal bhat and momos nearly every day of our trip too. Why wouldn't we when they are so delicious?
Hyatt Regency Kathmandu
The Hyatt Regency Kathmandu is a convenient choice due to its proximity to the airport, an important consideration in a city with so much traffic, but its also perfect for exploring the surrounding neighbourhood which is home to the impressive Boudhanath Stupa. It boasts an impressive amount of green outdoor space, which we loved, with manicured gardens, mature trees, a huge swimming pool and even a jogging track all contained within the vast hotel grounds. In such a densely populated capital city, this sense of space and nature was very welcome indeed and made Hyatt Regency Kathmandu the perfect base for our time in Kathmandu.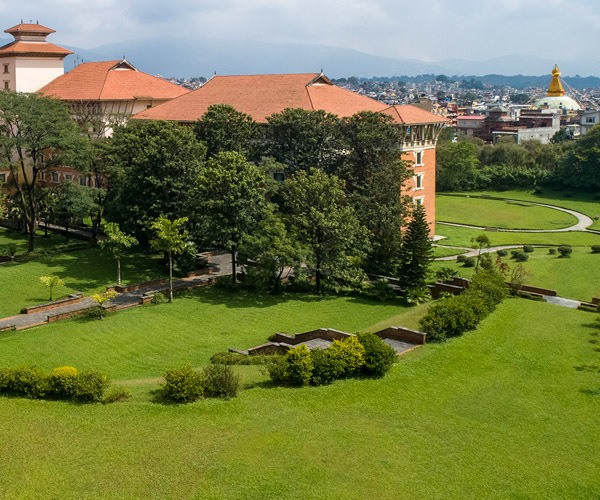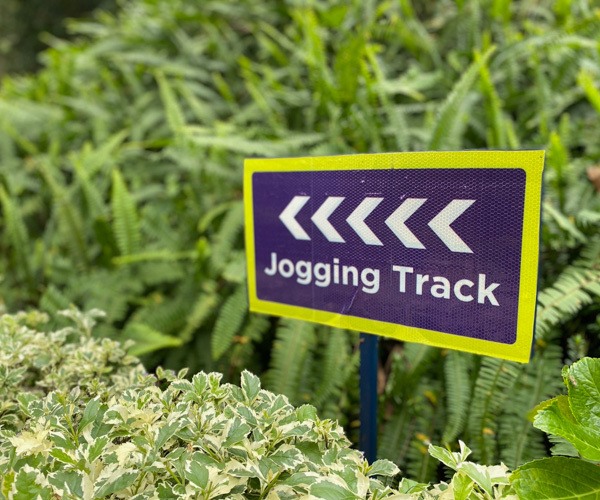 The vegan food at Hyatt Regency Kathmandu was delicious and varied. Not all of the F&B outlets were open, but we were lucky enough to enjoy some 'off menu' items during our stay that will hopefully make it onto the menu in the future. The breakfast buffet was extensive as you'd expect from a five star hotel and with not much effort we were able to find plenty of vegan options. Freshly prepared dosas, steamed idli and some of the curries were vegan, whilst there were plenty of tropical fruits, salad, breads and homemade jam. Upon request they arranged soya milk for us and also kindly prepared tofu scramble on toast, with smashed avocado and roasted carrots. We also enjoyed the Hyatt Regency Kathmandu's take on pani puri; a true regional street food classic but elevated to five star status. Other highlights included a mezze platter which took us on a culinary journey straight to the Middle East. Both of these dishes were delightfully presented and packed with flavour.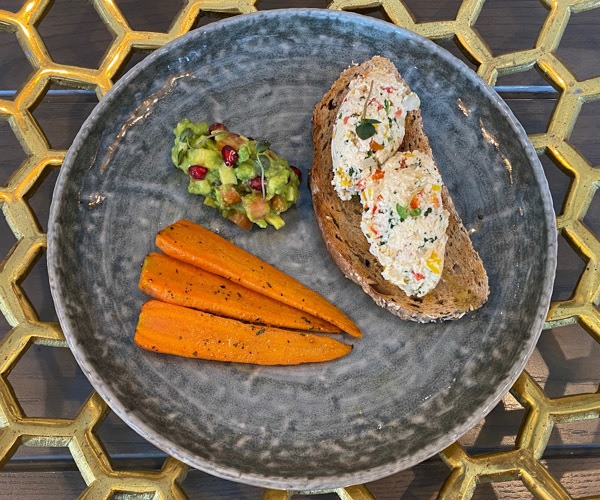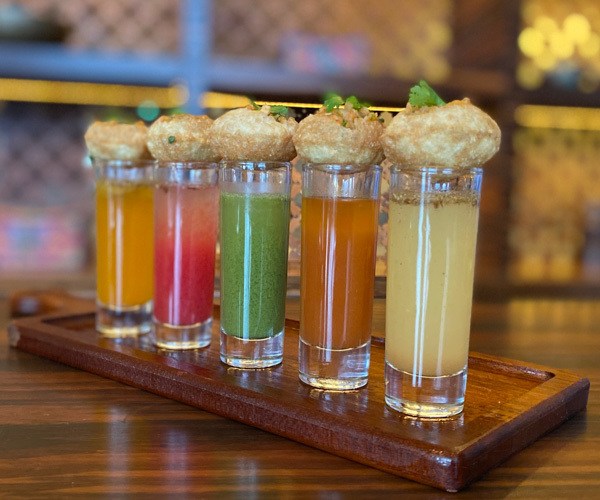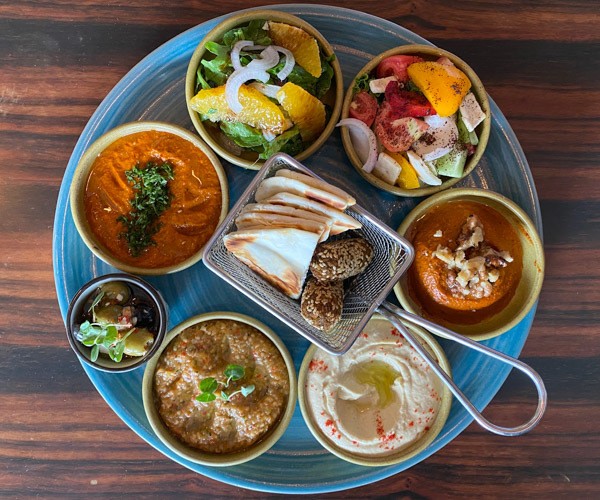 The Soaltee Kathmandu
The impressive driveway at The Soaltee Kathmandu is upstaged by the even more impressive entrance. The grand foyer leads into a spacious lobby where white marble and floral arrangements create a sense of calm and welcome. Gracious and professional staff enhanced that welcome for us and before we knew it we were in our well appointed 'Classic Heritage Room'. When we found time in between exploring Kathmandu, sleeping in our divinely comfortable bed and eating all of the tasty plant based food, we made use of the outdoor pool and 'Tranquility Spa' which boasted an array of excellent facilities.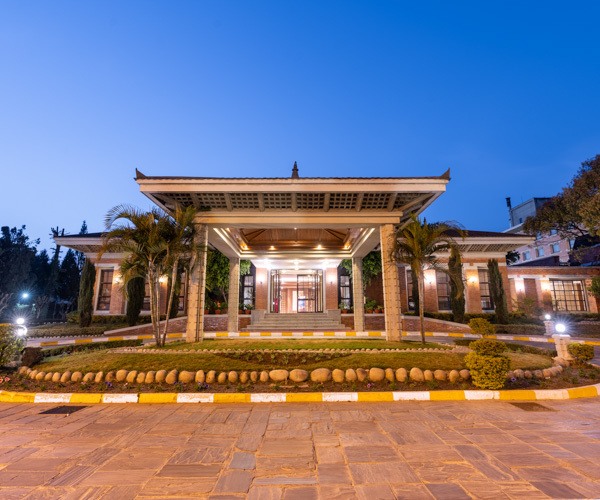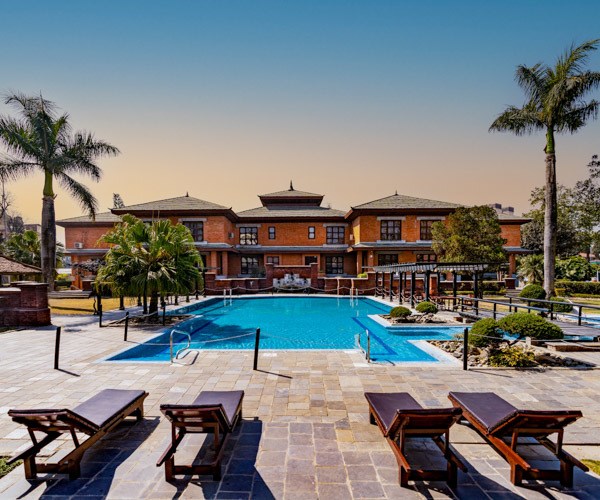 We could happily eat idli every day for breakfast especially as the idli at The Soaltee were perfectly steamed and served with a tasty sambar and 3 delicious chutneys. The trio of chutneys we were served with our pea and potato cakes as part of a specially created vegan lunch were excellent, as was everything that Chef Vinay Singh prepared for us that day. The vegan momos at The Soaltee were particularly good and worthy of a special mention for sure.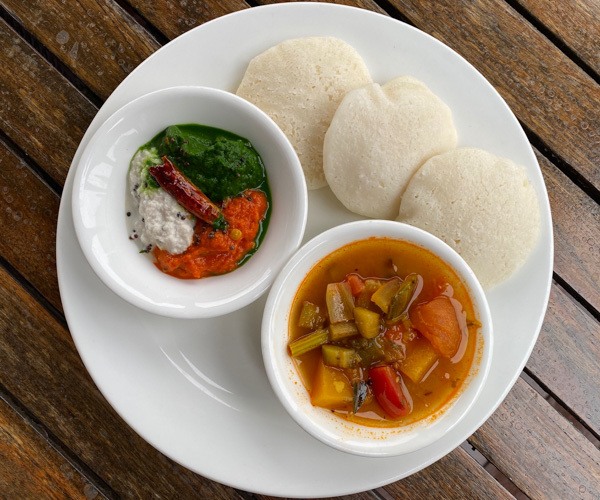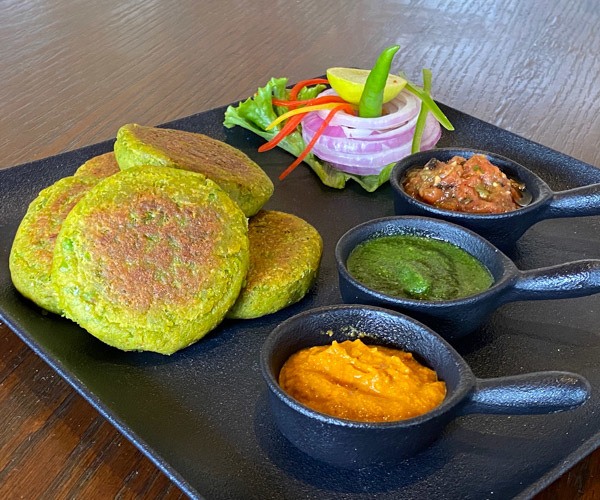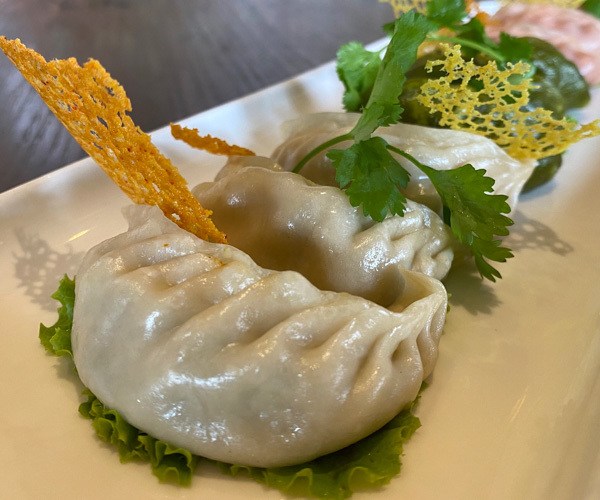 Tiger Mountain Pokhara Lodge
Spending time at Tiger Mountain Pokhara Lodge is a perfect way to end a Nepalese adventure. The charming and luxurious lodges combined with a warm welcome and generous hospitality from the staff, make this a memorable choice when visiting Nepal. The unique lodges, mesmerising views and delicious vegan food made our stay truly remarkable. The views over the verdant valley below were captivating as was that of the majestic mountains in the distance, which often seemed like we could reach out and touch them. It was quite simply breathtaking. At every time if the day, from each and every vantage point those views constantly changed, providing endless entertainment, and opportunities for daydreaming. This true feeling of being at one with our natural surroundings is something that we will never forget.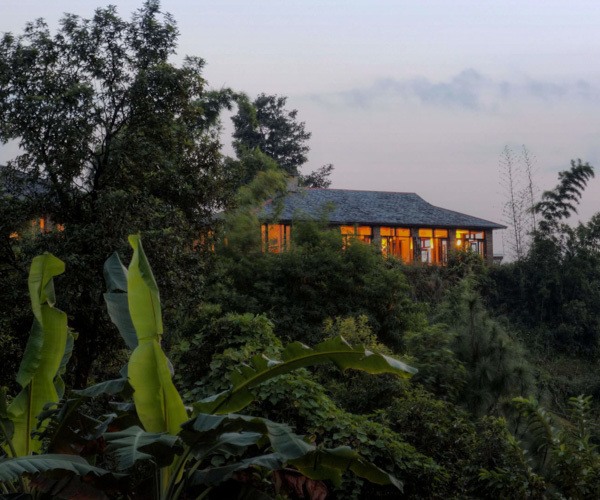 ---
IMPORTANT NOTICE:
If you are reading this article anywhere other than on A Luxury Travel Blog, then the chances are that this content has been stolen without permission.
Please make a note of the web address above and contact A Luxury Travel Blog to advise them of this issue.
Thank you for your help in combatting content theft.
---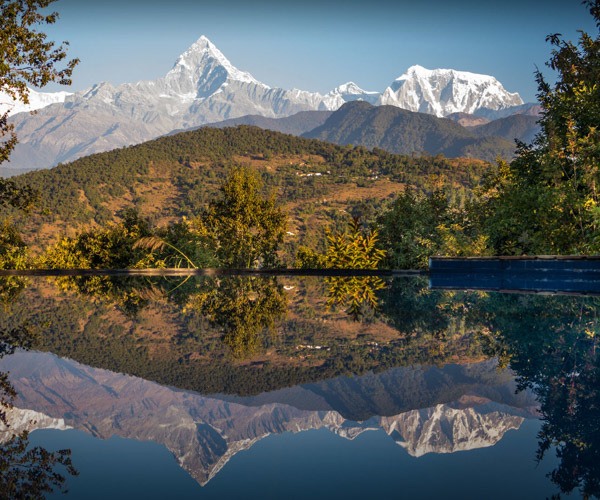 Guests are invited to enjoy breakfast, lunch and dinner whilst staying at Tiger Mountain Pokhara Lodge yet there is no menu. Instead, the talented Chef Lalu and his team use their skills, imagination and locally sourced ingredients to create delicious plant based Nepalese cuisine. A quick chat upon check in to discuss any dietary requirements or requests, and you can relax safe on the knowledge that every time you are seated in the dining room, the food will be of the highest quality. Whether it was a breakfast comprising grilled tomatoes and pan fried mushrooms on toast, a flavour picked curry served with puris, or a light and nutritious lunch comprising a trio of salads; we were supremely satisfied with everything we tried during our stay at Tiger Mountain Pokhara Lodge.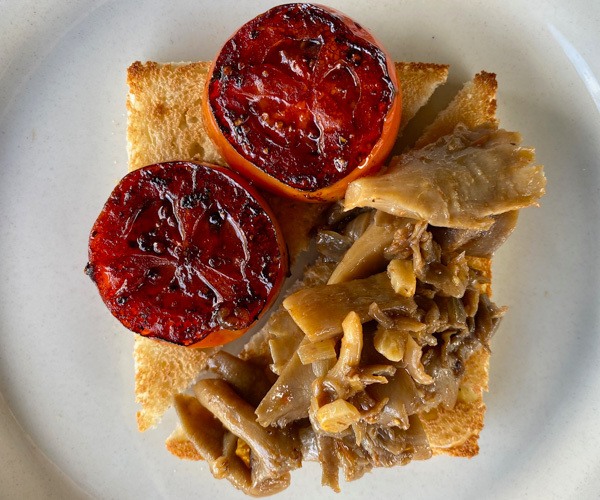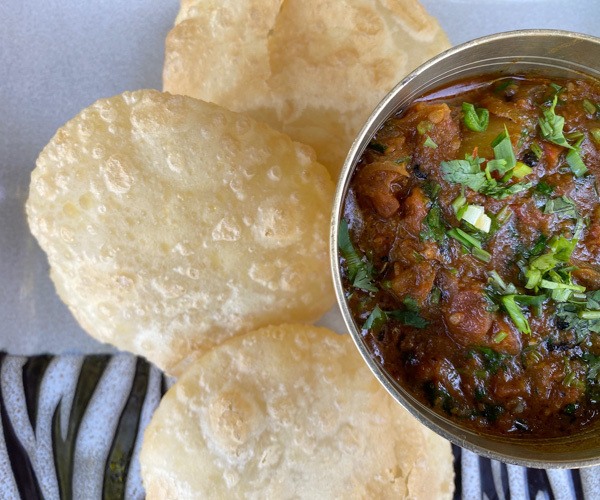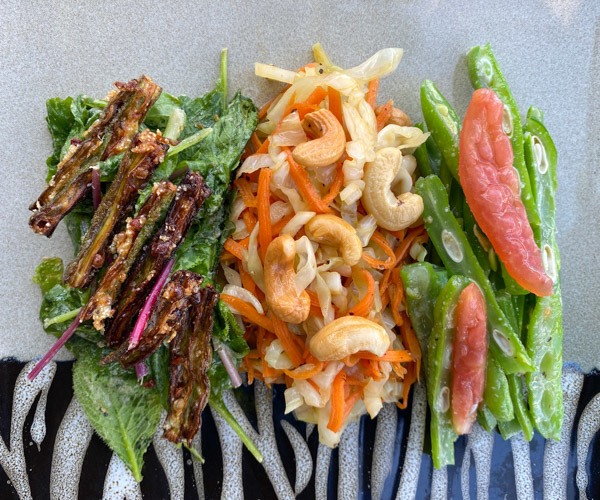 Nepal is a country that makes you want to return at the earliest opportunity as soon as you leave. We were truly blown away by the hospitality and warm welcome that we received from the people we met. In addition to that, not only was the vegan food at this trio of vegan friendly luxury hotels in Nepal outstanding, but we found many more vegan friendly cafes, eateries and restaurants during our trip. Thank you Nepal, we hope to see you again very soon!
Paul Eyers is Founder of Vegan Food Quest. Vegan Food Quest have become luxury vegan travel specialists as they continue to find, eat and write about the best vegan food in the world.
If you would like to be a guest blogger on A Luxury Travel Blog in order to raise your profile, please contact us.