Making memories in the Maldives
By Sarah Kingdom on Sep 12, 2022 in Accommodation, Asia, Hotels, Maldives, Regions, Resorts
Strung across the equator, like a string of lustrous pearls in the azure waters of the Indian Ocean, the 1,192 islands of the Maldives extend more than 820 km from north to south, and 130 km from east to west. With an entire land area of 298km², sitting in 90,000km² of ocean, this is Asia's smallest country, both in population and in land mass, and with an average elevation of only 2m above sea level, the Maldives can also claim the world's lowest average elevation. With few islands bigger than 120 hectares, this tiny island nation is 99% water – so if you are planning on holidaying here, you'd better love the water!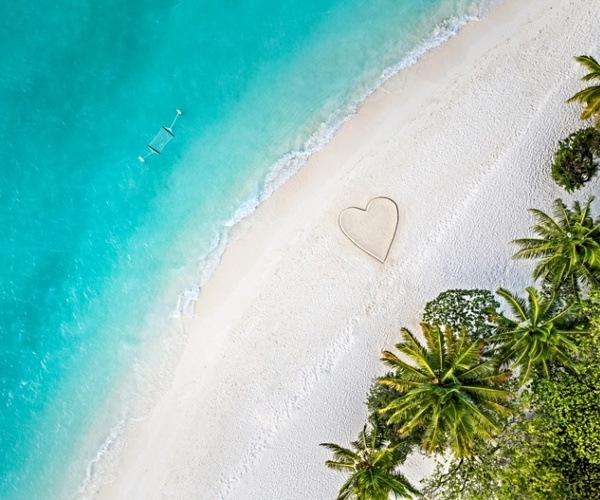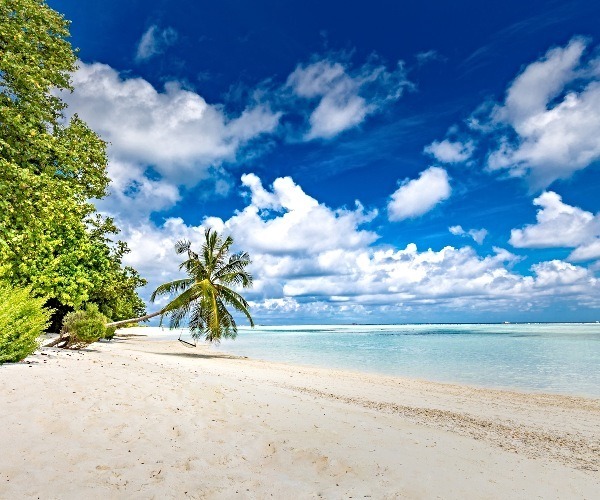 Known for some of the best year-round scuba diving and snorkeling in the world, the Maldives is every ocean-lover's dream. The surrounding waters are home to an astounding variety of marine life, with nearly 200 species of hard corals, over 1,100 species of fish, 400 species of molluscs, 350 species of marine crustaceans, and more!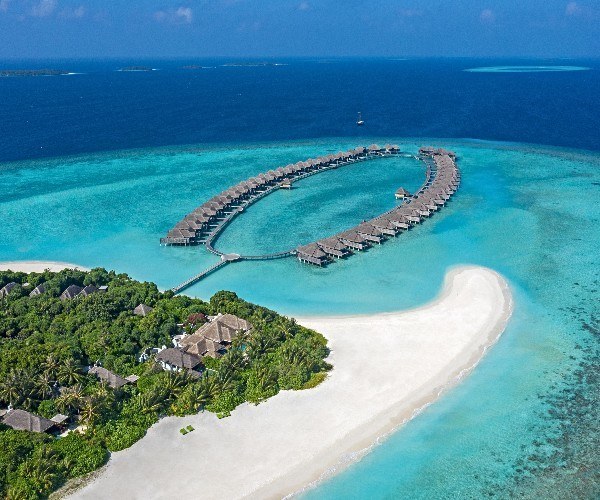 The stunning islands, with powdery white sand beaches and high-end resorts, with gorgeous overwater bungalows, have a well-deserved reputation for luxury and are known as the destination to head to for some serious rest and relaxation. Think swaying palm trees, lazing in hammocks, indulging in massages and spa treatments, and sipping cocktails at sunset. Let's not forget romantic candlelight dinners, champagne sunsets, and some truly memorable and unique dining experiences.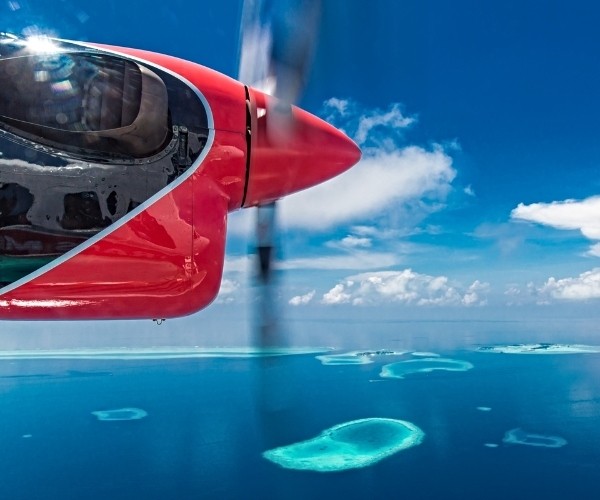 You'll arrive in the Maldives at Male International Airport which, perhaps slightly oddly, isn't actually on the capital island of Male itself, but instead on the adjacent, small reclaimed island of Hulhumalé. Upon landing you'll transfer to the nearby docks where, walking down the overwater ramps to your waiting seaplane, is the first of many unique and exciting things about your holiday. A seaplane travels three times faster than a boat, so is the ideal way to travel in this archipelago nation. From the minute you take off, the seaplane journey to your resort will be a 30 minute to one hour flight of jaw-dropping aerial views. Whilst seaplanes are not a cheap way to travel, life is about the journey, and as this will likely be one of the most scenic of your life; you can't really put a price on that.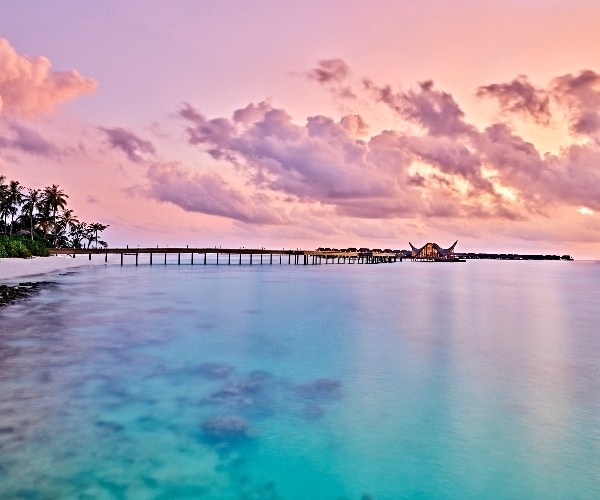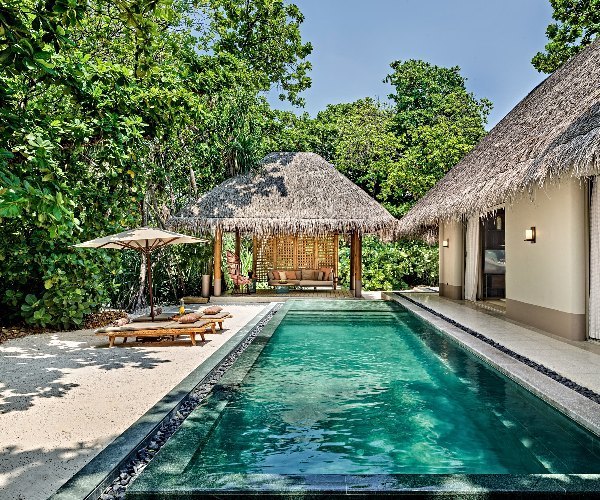 I visited three beautiful islands on my recent Maldives holiday, and our first port of call was JOALI Maldives, on Muravandhoo Island in the Raa Atoll, 160km from the capital Male. The opulent beach and overwater villas at JOALI, have cathedral ceilings, rose gold finishes, and lavishly decorated bedrooms and bathrooms. All rooms come with a private infinity pool, a personal butler and valet service, and sumptuous comforts. The most challenging decision of you day will probably be whether to wash off the sea, salt and sand, in your emerald green, marble shower, or perhaps to use your tropical, outdoor shower. Meal times offer you a yet more options, with four restaurants to choose from, an impressive wine, whisky and sake collection, and even an artisanal chocolate and ice-cream store to satisfy your sweet tooth. Other great features at JOALI are the collection of commissioned artworks scattered around the island, and the beautiful, marble clad, authentic hammam. With uninterrupted views of brilliant blue waters, and with white sand beaches never more than a short stroll away, we would wake in the morning and, before breakfast, simply don a mask and snorkel and pull on a pair of fins before slipping into the water in front of our villa, where a world of fish and coral awaited us. JOALI Maldives is island luxury at its best.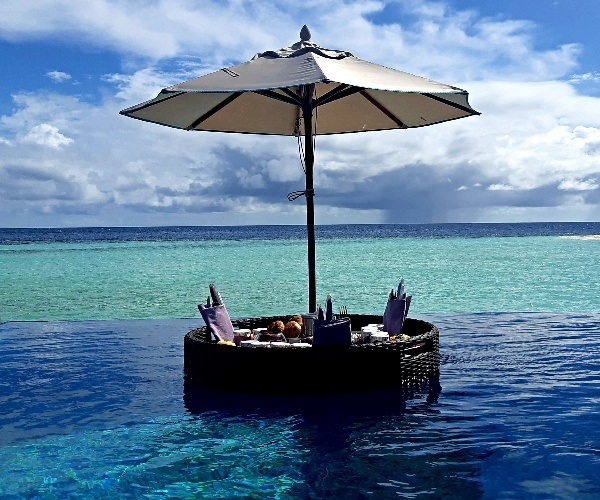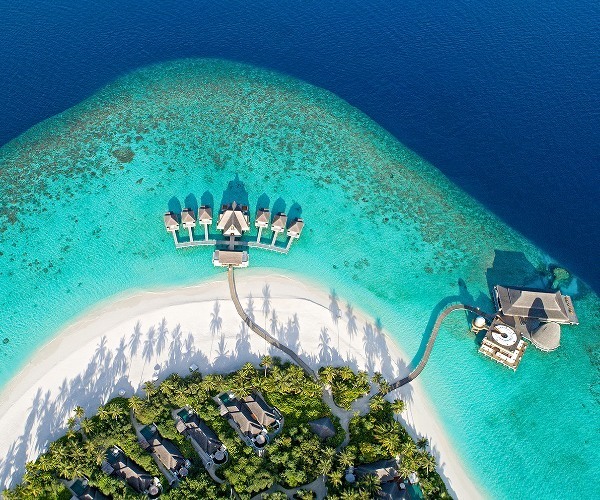 Travelling by boat, our next stop was Anantara Kihavah Maldives Villas on Kihavah Huravalhi, an island in the Baa Atoll, which is a UNESCO World Biosphere Reserve. At Anantara Kihavah you can choose between one of the resorts lovely overwater bungalows or their private beach villas, and it's not an easy choice to make. Luckily, I got to sample both! The secluded beach villas have palatial bathrooms, complete with water features and a bathing pagoda, and it's a short stroll, past your private pool, to the beach. The overwater bungalows, the epitome of vacation goals, have glass panels in the bathroom floor and a glass bottomed bath, treating you to tantalizing glimpses of the ocean, right beneath your room. A floating breakfast in your infinity pool is a magical holiday highlight, and with 6 restaurants to choose from, the archipelago's only underwater wine cellar, and some carefully curated 'dining by design' experiences, meals are memorable experience.
At Anantara Kihavah Maldives we snorkeled the house reef, which teamed with reef fish and colorful coral gardens and later went out by boat, to snorkel with giant reef manta rays in the protected Hanifaru Bay, the world's largest manta ray feeding location.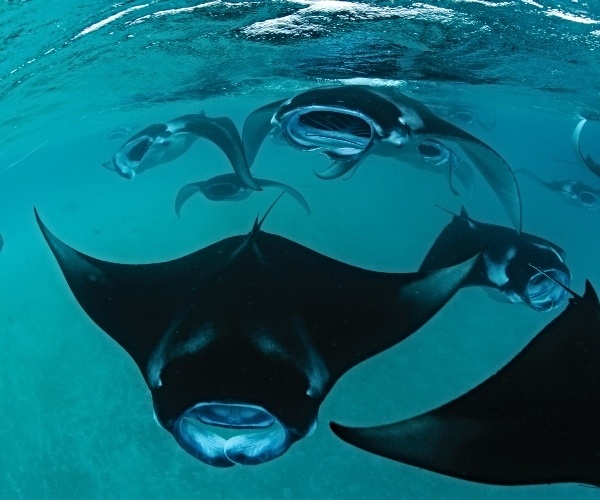 There's nothing quite as magical as your first ever sighting of a manta ray in the ocean. We arrived by boat, and wearing mask, snorkel and fins, slipped over the side and into the water. First one, then two, then more manta rays were heading my way, swimming in formation, so close they almost brushed against me. Reef manta rays are the second largest ray species in the world. Most of the ones we saw were 3 or 4 meters wide, but some very large ones can grow up to 5 or 6 meters. Manta rays are filter feeders, feeding on tiny organisms such as plankton, shrimp, and jellyfish. As they glide through the water, they filter large volumes of water through their wide-open mouths. Swimming amongst the aggregations of manta rays at Hanifaru Bay is definitely one of the most memorable things I've done.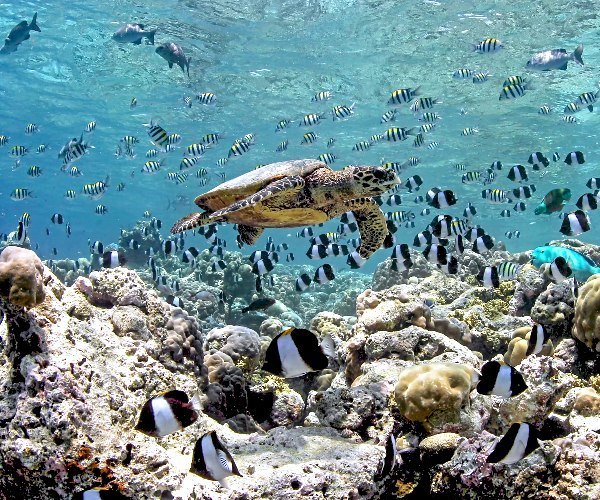 Snorkeling with sea turtles in their natural habitat is another magical Maldives experience, and it's quite likely you'll spot turtles while swimming, in the waters around your resort. The Maldivian archipelago is home to five of the world's seven species of sea turtles – green, hawksbill, loggerhead, olive ridley, and leatherback – of these, the two species you are most likely to see are the green and hawksbill turtles; both of which are endangered.
Swimming with turtles is as special as it sounds, and it's not difficult to find yourself quite close to one or more, as they'll often appear when you least expect it. Don't try and keep up with them though. If a turtle wants to get away from you, they can use their paddle-shaped flippers to propel themselves at speeds of up to 35km/hr, and you'll be hard pressed to keep up with that!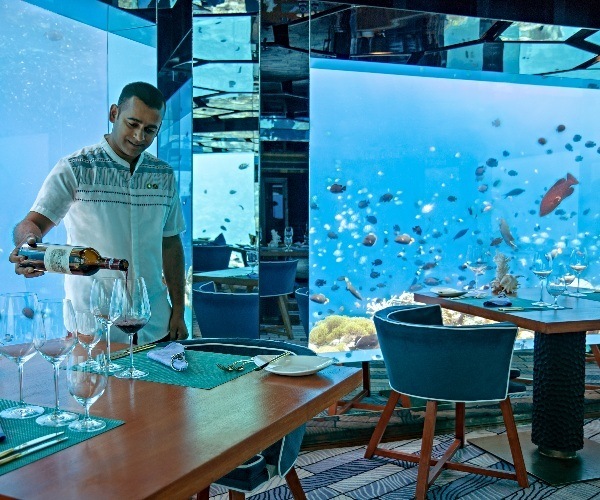 You don't actually have to get wet to get up close and personal with sea turtles. Anantara Kihavah's underwater restaurant and wine cellar, SEA, gives you the opportunity to enjoy great food and an incredible underwater experience at the same time. The glass sides of the octagonal dining room allow diners a stunning view of marine life swimming to and fro, so close and so clear that you feel like you could just about touch them! Breakfast, dinner, or a guided wine tasting with resort sommelier Arun, in SEA restaurant is an experience like no other. Think eggs benedict, while clown fish examines you through the window, or sipping champagne as sea turtles swim by, or perhaps a dinner of lobster and prime aged wagyu, while reef sharks glide past from the blue depths. This is the world's first underwater wine cellar and one of only a handful of underwater restaurants in the country.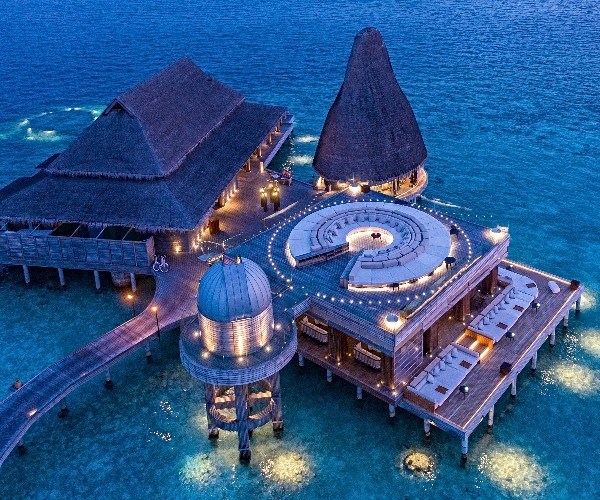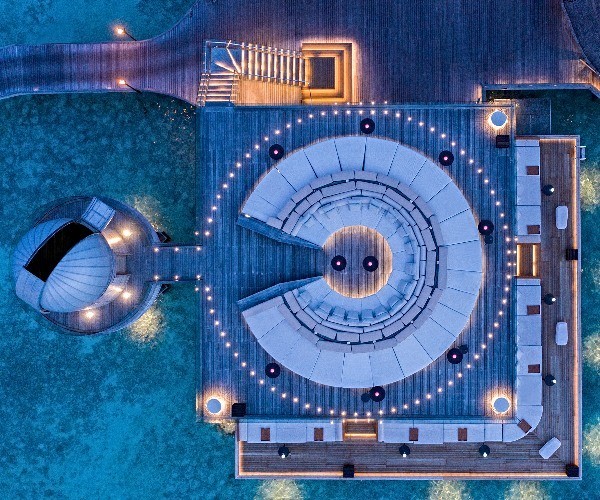 For a change of scene, how about dining under the stars? The Maldives seems to have some of the biggest skies in the world. Free from light pollution, each tiny island presents the perfect place to observe the universe. But nowhere is better prepared than Anantara Kihavah, with its custom-built observatory, designed for seriously up-close star gazing. We lay back on a circular daybed, gazing up at the blanket of stars overhead, while the island's resident 'Sky Guru', Shameem, 'enlightened' us about the constellations overhead, before introducing us to the Maldives most powerful telescope, a research-grade, 16" Meade LX200 telescope. Looking through the viewfinder we could see Saturn's rings, the moon's craters, and millions of stars farming hundreds of constellations. A mesmerizing natural light show.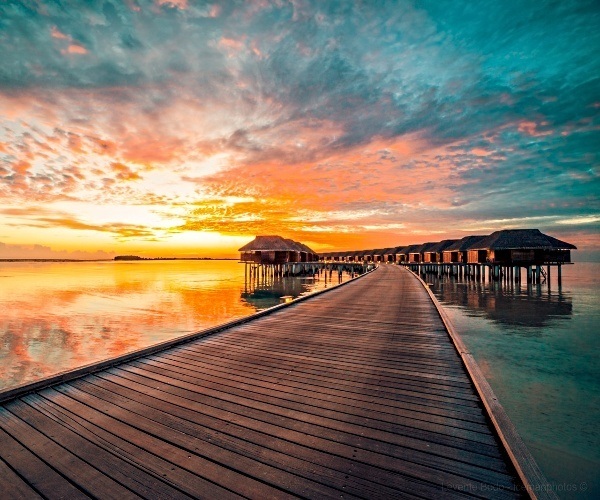 ---
IMPORTANT NOTICE:
If you are reading this article anywhere other than on A Luxury Travel Blog, then the chances are that this content has been stolen without permission.
Please make a note of the web address above and contact A Luxury Travel Blog to advise them of this issue.
Thank you for your help in combatting content theft.
---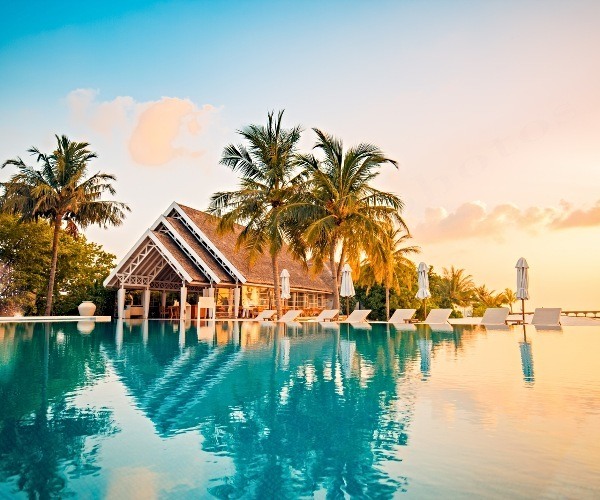 Last stop on our itinerary was LUX* South Ari Atoll. With 4km of beaches, 193 villas and a world-class dive center, LUX* South Ari Atoll is on the island of Dhidhoofinolhu. From bike riding around the island, to swimming with whale sharks, dining in one of the resorts eight restaurants, swimming in one of the resort's two pools, joining a cooking class, or just hanging out in your overwater bungalow, there's a lot to do at here. This is a good choice for families, as there's plenty to keep kids and teens busy, and there's a wide choice of water sports for the whole family. And with the kids kept occupied, there's plenty of opportunities for parents to sneak off to beach yoga or relax with a treatment in the spa.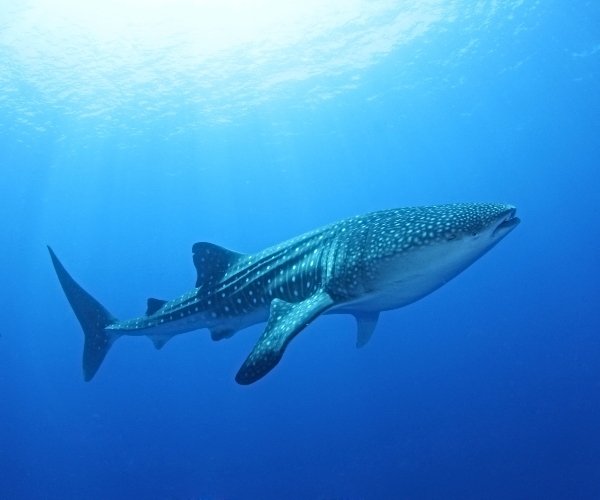 From LUX* South Ari Atoll we snorkeled with sea turtles and eagle rays, before going out to look for Whale Sharks, who can be found, with a bit of luck, and some searching, all year round in the Maldives. As we headed out in the boat a pod of dolphins surfaced in the swell and group of flying fish launched themselves into the air, almost bouncing across the surface of the water beside us. The Maldives is a hotspot for whale sharks, they are year-round residents here, and although whale sharks found in the Maldives tend to be a little smaller than whale sharks found elsewhere, they can still easily measure up to 8m long, so swimming with these creatures is not for the faint-hearted. Snorkeling with whale sharks is an experience of a lifetime, and the Maldives is one of the few destinations around the world where, in season, sightings of whale sharks are almost guaranteed.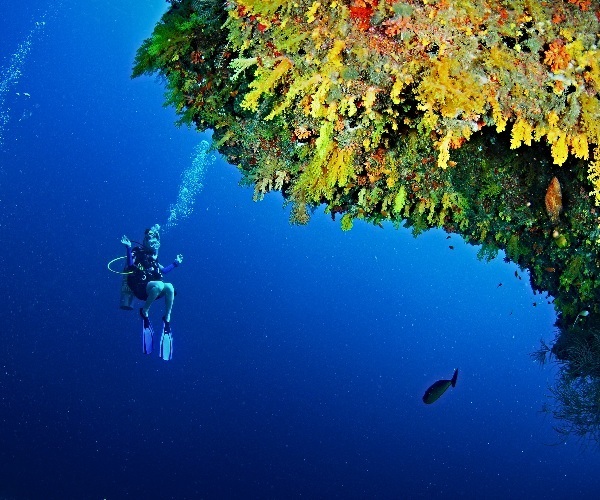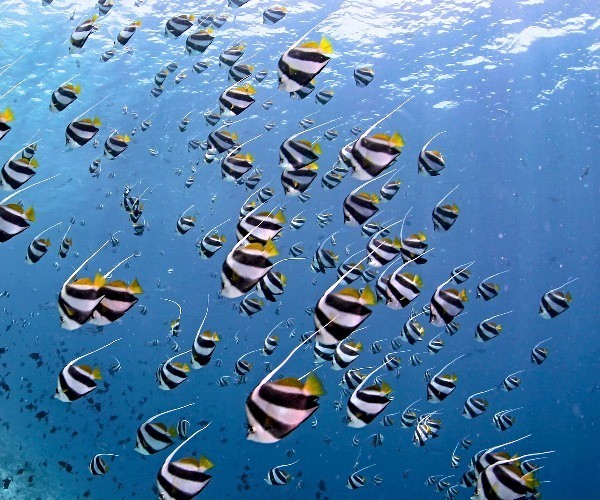 Scuba diving is a great way to see an entirely different world, and it's one of those skills I'd recommend every traveller have in their repertoire. The warm, sparkling waters of the Maldives provide the perfect conditions for a thriving underwater world, full of wonderful marine life, including turtles, rays, eels, dolphins, and sharks (the friendly kind). The water is clear and you can expect a visibility ranging from 20 – 40 meters. You'll drift in the ocean currents and, past ocean walls, covered with colorful sponges, soft corals and invertebrates, and over cleaning stations where wrasse and shrimps service manta rays. You don't even need to be previously scuba qualified to experience the underwater world of the Maldives as most of the large resorts have their own PADI certified dive centers, where you can sign up for dives and courses. Considered one of the best diving places in the world, there are certainly have enough diving spots here to satisfy every enthusiast, and we had a great time scuba diving from LUX* South Ari Atoll.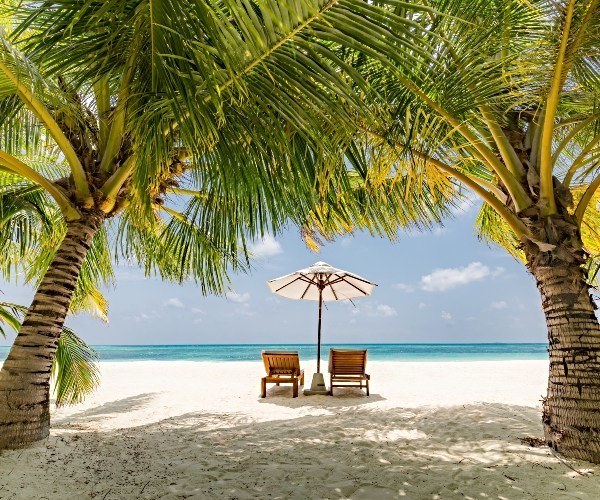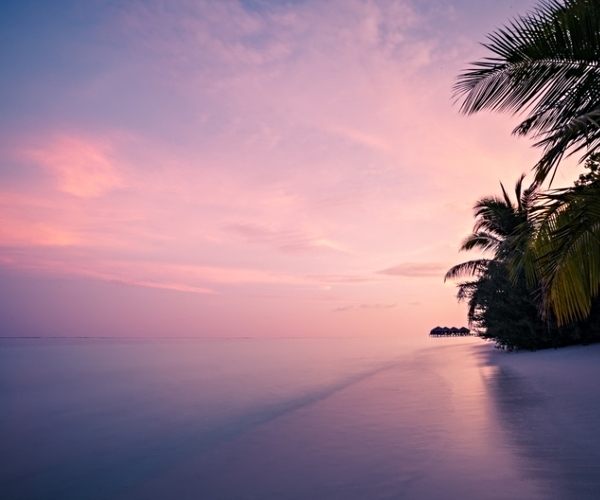 A million years before the dinosaurs disappeared, the Indian tectonic plate drifted north, tearing a rift in the Earth's crust, from which a ridge of volcanic peaks arose. Over time, this prehistoric volcano sank back into the depths, leaving behind the lush paradise of the Maldivian atolls. The islands have a fleeting, transitory quality – sandbanks form upon living coral, islands grow and shrink and rise and fall, dependent on the whims of the ocean currents. Islands rise like mirages, surrounded by turquoise lagoons which in turn melt into the sapphire blue ocean. This is a dream destination – for sun, sand, sea and serenity you couldn't ask for a better destination.